Summary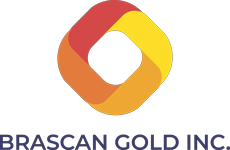 The Company is a gold exploration issuer based in Vancouver, BC. The Company holds an option over the Vulcan Property, located in the Fort Steele Mining Division in southeastern BC and the Middle Arm Fault property, located 30km south of the town of Baie Verte, Newfoundland.
Share Structure
As of  Nov 4, 2021 

Shares Issued
16,653,500

Warrants

9,500,000
Options

1,500,000

Fully Diluted
26,148,500
Investment Highlights
Brascan has signed a property option agreement to earn 100% in the Middle Arm Gold property located in Baie Verte, Newfoundland.   Brascan will conduct a phase 1 exploration program. Capital funding will come from the $ 2.4M private placement at $ .30 per share recently announced by Brascan.
Brascan is evaluating several gold projects in the Americas with 1,000,000 ounces plus potential.
On November 1, 2021, Brascan signed an LOI respecting a 100% Earn in Option on the Alegre Gold Property in Para State, Brazil
Brascan has a global network to cast a wide net to source and catch promising gold projects.
Projects
Para State is the second most active mining state in Brazil with excellent infrastructure including electricity, water, road Access and skilled workforce. Para State has low tax rates and transparent permitting processes. Generally, Brazil faces challenging economic times, high unemployment and a devalued currency. BRAZIL presents an excellent timely opportunity for BRASCAN to acquire, explore and discover gold deposits at lower costs. Moreover, Brascan is positioned to look at the best gold opportunities with its stellar technical team situated in Brazil, particularly PARA STATE.
Alegre Gold Project, Para Statae, Brazil
CBM's Alegre Gold Property has excellent potential to discover and delineate a gold resource that can support industrial-scale gold production. Gold production from the small-scale garimpeiro operations that are active on the property are reportedly producing in excess of 1 kilogram of gold per week (32 troy ounces) from shallow surface excavations which have exposed a mineralized shear zone with widths of up to 40 metres. Gold mineralization has been traced via the garimpo operations along a strike length of approximately 7.5km.
Encompasses a number of gold occurrences that are associated with the north-west trending Tentugal Shear Zone of the Gurupi Greenstone Belt in the State of Pará, Brazil
Four active small scale gold "garimpeiro" mining operations on the Project and at least three other areas which have supported shallow small-scale production
Gold mineralization has been traced via the garimpo operations along a strike length of approximately 7.5km
No systematic mineral exploration has been conducted on the Project
The Project covers the same gold-bearing structural trend that hosts the Cachoeira deposit of Gold Mining (GOLD-TSX) situated 15 kilometres to the north, and Oz Minerals (OSL-ASX) Centrogold Project situated 30 kilometres to the south-east
The Alegre Gold Project is owned 100% by Chapada do Brasil Ltda., a private company registered in Brazil
The Project covers roughly 9,465 hectares and is held under a single exploration licence issued by the Agência Nacional de Mineração ("ANM") under registration number 850.995/2021
Geological Settings of Alegre Gold project
Alegre Gold Project is situated in the Gurupi Greenstone Belt, a Neo-Proterozoic mobile belt located along the southern margin of the São Luis Craton
Gold deposits occur in the Gurupi Belt along a northwest-trending fault zone structure called the Tentugal Shear Zone
Most of the gold mineralization is found in a volcano-sedimentary sequence called the Chega Tudo Formation
Middle Arm Fault – Newfoundland
The Middle Arm Fault Property is located approximately 30 km south of the town of Baie Verte, Newfoundland. The Property comprises three contiguous minerals claims covering 650 hectares and is easily accessible by a forest road.
Newfoundland and Labrador is ranked among the top 10 mining jurisdictions world-wide by the Fraser Institute, and boasts excellent infrastructure reflecting its long mining history including roads, grid power, port facilities, complete mining services as well as a skilled and experienced workforce.
The option claims are contiguous with the northern boundary of Maritime Resources Corp.'s Whisker Valley Project, and 14 km north of Maritime's past-producer Hammerdown gold deposit, which is described in some detail in Maritime's PEA (McCracken et al., 2020).
The Property covers a portion of the regionally significant Middle Arm Fault, which extends more than 15 km to the southwest, where it is spatially associated with several gold showings, as reported on the Newfoundland and Labrador Geoscience Atlas (https://geoatlas.gov.nl.ca/Default.htm). A 2.5 km long magnetic high anomaly occurs adjacent to the Middle Arm Fault on the Property, and Brascan considers this anomaly to be a target warranting follow up exploration.
Management Profiles
Eric Warren Director, CEO
Lawyer, Partner of Warren & Eder since November 2000. He received his M.Sc (Mathematics) from the University of British Columbia in 1972 and his Bachelor of Laws degree from the University of British Columbia in 1979. For many years, Eric has served as a director and officer of various CSE and TSXV listed companies.
Balbir Johal Director
Mr. Johal is a former securities lawyer with over 20 years' experience in the global capital markets. He has extensive experience in working with natural resources and exploration companies. Mr. Johal has served as a senior officer and director of a number of public companies and is presently CEO of his own merchant bank Midori Capital Inc.
Geoff Balderson CFO
President of Flow Capital Corp. since June 2009; President of Harmony Corporate Services Ltd. since March 2015. Geoff has a highly impressive track record for successful IPOs. He has served as founder, director, and officer of many CSE and TSXV listed companies. As a former Investment Advisor at Union Securities and Georgia Pacific Securities, Geoff has extensive capital markets experience.
Nicole Lacson Corporate Secretary
With over 15 years of experience in business and legal administration, Nicole is well versed in supporting venture issuers through corporate and securities matters. She specializes in financings, mergers and acquisitions, shareholder meetings, governance, and stock exchange compliance, her clients depend on her wide range of skills. Earlier in her career, Nicole worked for the executive offices of Uranium Energy Corp. (NYSE: UEC), and GoldMining Inc. (TSX: GOLD), where she provided office administration and investor relations support to its management team. Nicole was the paralegal for TAAT Global Alternatives Inc. (CSE: TAAT) from May 2019 to August 2020, where she provided high-level paralegal support to its management team during its acquisition of TAAT International and CSE listing. Nicole is the principal of Kamara Corporate Services Ltd., a Vancouver-based management and accounting firm that provides corporate secretarial and financial services to private and publicly listed companies.